Environment
So far 55 object types from simple operators to complete sequencers.
Objects can send three types of signal: Audio, Sync and Trigger.
Any object can be connected to any other object.
Connection types are auto-resolved between object types.
Groups of objects can be saved to macros and loaded back between projects.
No (software) limit on object amount.
State machine for sequencing objects parameter states.
Complete project saving and loading with all data and parameter states.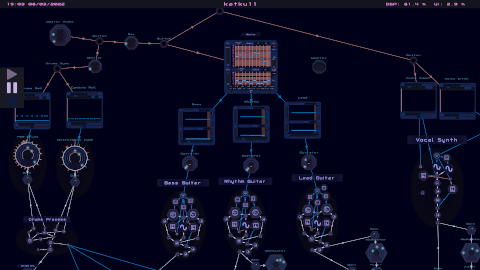 Interface
OpenGL rendered 2.5D interface.
Supporting resolutions up to 8K @ 60Hz.
Rapid intuitive navigation and operation with or without keyboard shortcuts.
(almost) VR ready.
Internal manual with thoroughly explained pictures.
Customizable color themes as text files.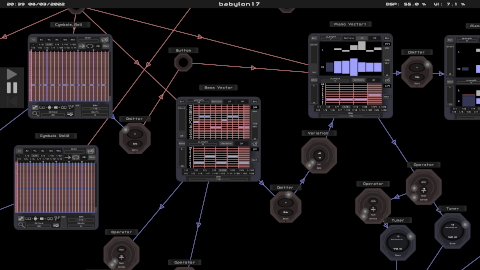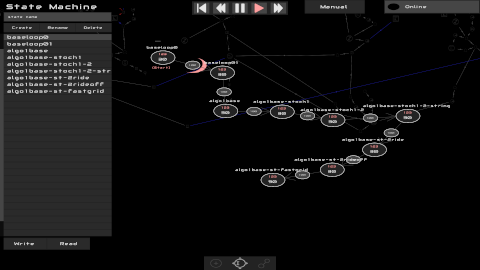 Sound
Engine sample rate from 22 KHz to 192 KHz
Seamless object operation on runtime.
Anti-aliased oscillators.
Control signals at audio rate, with ultra precise effect.
High quality stereo sample interpolation.
Buffered online stereo hard disk recorder.
Stereo audio auto-slicing, pitch-analysis and pitch shifting.
OPUS-compressed real-time network audio.
Control
Traditional polyphonic piano roll editor/sequencer.
Microtonal support for all synthesis and sample playing.
Traditional automation editor/sequencer.
Arithmetic and logic objects to process control signals.
Algorithmic and stockhastic sequencers.
Physics simulation sequencer.
Virtual keyboard and sheet note visualizer.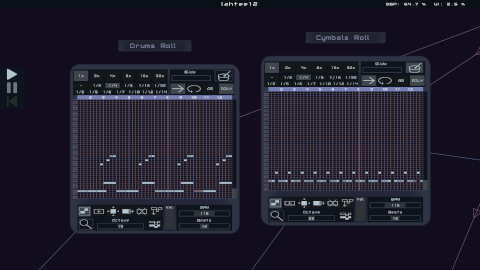 I/O
Audio through DirectSound, WASAPI or ASIO in Windows 10.
Native CoreAudio for macOS.
Up to 32 individual input and output audio channels.
Reads WAV, AIFF and MP3 audio files.
MIDI in/out with support for multiple simultaneous devices.
Writes 32-bit WAV files.
Reads Scala (.SCL) tuning files.
TCP/IP real-time network audio.